Allicia D. Hunter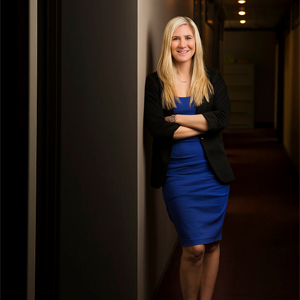 Allicia was born and raised in Prince Albert, SK.   After graduation Allicia attended the University of Saskatchewan in 2001 and received her B.A. in psychology in 2004. She then received her LL.B. from the University of Saskatchewan in 2007.
Allicia joined Sanderson Balicki Parchomchuk in July 2007, and became a partner in January 2017. Allicia's current practice is general, with her primary areas of practice being real estate, family law and criminal law.  Allicia frequently appears before the court of Queen's Bench and the Provincial Court or Saskatchewan.
Allicia is a member of the Canadian Bar Association, Saskatchewan Trial Lawyers Association, and is a current member and a past secretary and vice-president of the Prince Albert Bar Association.  Allicia has also volunteered as a legal advisor for Law Day Mock Trial Competitions.
Outside of the office, Allicia enjoys golfing, snowboarding, scuba diving and travelling with her husband.
Areas of Practice