Carla M. Dombowsky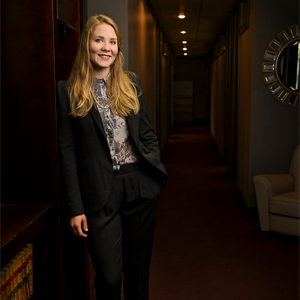 Carla is currently on maternity leave until March 2021
Carla Dombowsky was born and raised in Prince Albert, Saskatchewan.  She obtained a Bachelors of Arts, Honors in French from the University of Regina in 2013. Carla then applied her language skills working cross-culturally in France and Cameroon, where she taught and mentored in language, journalism and communications prior to choosing a career in law.
In 2014, Carla moved to Montreal with her husband where she enjoyed studying at McGill University's Faculty of law. There she studied in McGill's bilingual and bijural legal education program to complete her Bachelor of Civil Laws (B.C.L) and Bachelor of Laws (L.L.B) in 2017.  While a student at McGill, she gained experience volunteering in McGill's Legal Information Clinic and Montreal's Center for Research-Action and Race Relations.
Excited to land closer to family, Carla began her Articles back in Prince Albert with the firm in July, 2017. She became an Associate in 2019.
Outside of the firm, Carla can be found helping out on the family farm, enjoying the outdoors with her husband, learning to cook new things, and embracing life on a fixer-upper acreage.